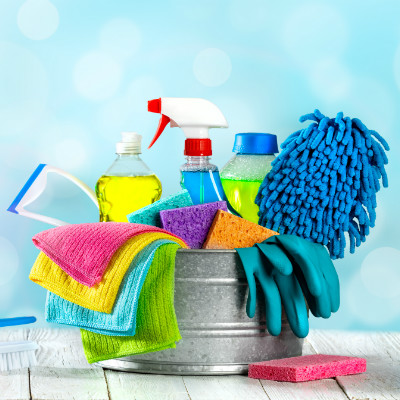 Nothing feels more like home than a squeaky clean place! Here at The Falls, we want our residents to know which products are safe and effective in their units. Here are some of our favorite cleaning products to use!
For our wood LVT flooring, we recommend using Bona Luxury Vinyl Floor Cleaner! Any mop will get the job done, but one of our favorite mops is the O-Cedar EasyWring Spin Mop and Bucket! Another way to preserve the wood LVT flooring is to use furniture pads to prevent scratches.
For hard water stains, soap scum, and grease, we recommend either Diluted Calcium, Lime, Rust (CLR) cleaner or the Lysol Power Toilet Bowl Cleaner! It is not recommended to let CLR cleaner sit on any surfaces for over twenty minutes or it will begin to erode the finish. For Lysol Power Toilet Bowl Cleaner, it is recommended to spread the product over the surface, and let it sit for fifteen minutes. Then rinse and remove. If you are having a difficult time removing rings in your toilet, try a Pumie Toilet Bowel Hard Water Ringer Remover! It works miracles and will leave your toilet looking brand new!
For the inside of your oven, we recommend using Zep Commercial Heavy-Duty Oven & Grill Cleaner! We do warn this product is stronger than others, so use precautions such as using cleaning gloves. For microwaves and stove tops, we recommend Lysol Bleach Free Hydrogen Peroxide Multi-Purpose Cleaner/Degreaser! This product can also be used for door handles, light switches and so much more! For those stubborn water and grease stains on glass stovetops, we love the Cerama Bryte Cooktop Kit! This kit will eliminate all the grime and stains that seem impossible to remove!
We hope these cleaning products are effective and useful in your home!